Designed for commercial grade wine cellar applications with the refinement and durability of precision-machined aircraft-grade anodized aluminium, while combining the warmth and richness of fine hand crafted furniture, STACT Premier isn't a wine rack. It's an interior décor piece that stores wine in a beautiful way.
---

Unparalleled quality.
Unrivaled refinement, beauty and minimalist aesthetic make STACT the obvious choice for wine collectors who demand the very best, particularly within the wine cellar where the prized collection is on display.
Our panels feature premium wood veneers, and high-gloss lacquered finishes. Each panel takes more than a week to complete, with meticulous attention to detail. Once numerous coats of lacquer have been applied, each panel is hand buffed to a mirror- like piano finish.
Add some stellar to your cellar, with STACT wine racks!

Unlimited possibilities.
STACT panels are completely interchangeable, and available in an array of premium finish options - allowing you the opportunity to create your own unique wine wall design, with the possibility of expanding and adapting as your collection grows over time. Whether tucked underground, or front and center in the kitchen within a glass-enclosed wine cellar, building an elegant one-of-a-kind wine cellar is now easier than ever before.

Proven leading-edge design.
Designed in San Francisco by 2012 ICFF winning designer Eric Pfeiffer, our patented prefabricated ready-to-assemble modular design is unique to the industry. Known as "the pioneers of modern wine storage" STACT reimagines how wine is stored and showcased, holding more patents than any wine rack manufacturer in the world.
STACT wine racks have received international acclaim, having been featured in the Wall Street Journal, New York Times, Los Angeles Times, Elle Decor, Gizmodo, AskMen, HGTV, and Design Milk, ranked as the #1 Kickstarter design product by Huffington Post's StyleList, and selected by Uncrate as 'Most wanted'.

Unbeatable value.
Builders and specifiers have found STACT Premier to be a fraction of the price of what it would cost to develop and produce a comparable solution to our patented system. With a direct-to-client online distribution model we are able to avoid the costs associated with showrooms, traditional marketing, and eliminate the need to inflate our pricing to support retail mark-up, which allows us to offer a superior quality product at the best price possible.
Plus, we offer complimentary shipping, with a turn-key solution that comes delivered to you flat-packed and ready-to-install right out of the box - minimizing the costs and hassle associated with labor and installation when compared to custom wine storage solutions found on the market.
More wine. Less space.

STACT C-type panels deliver the highest bottle capacity on the market, up to 10.67 bottles per sq. ft. to be exact - that's over 33% more capacity versus the closest comparable wine rack from our leading competitor.
Get right on track.
The patented modular track design makes STACT a cinch to assemble, and ships ready to install right out of the box. Conventional peg wine racks can be cumbersome to install, and often don't even include panels or mounting hardware.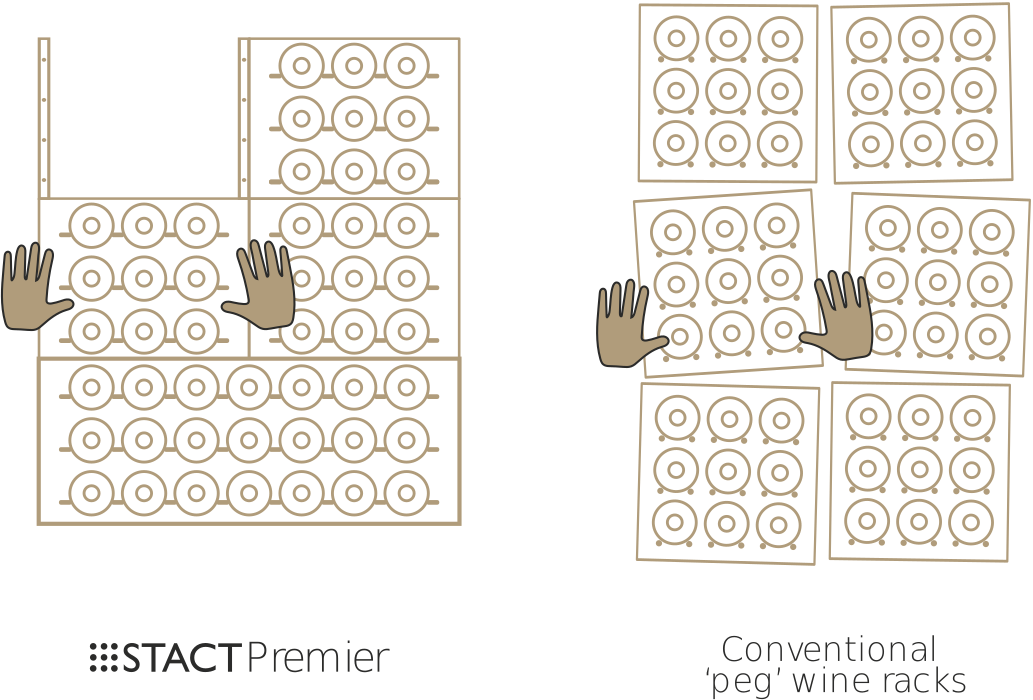 Superior bottle stability.
STACT's exclusive BottleSecure™ technology ensures superior bottle stability compared to the competition. With a more significant portion of each bottle resting below the bottle supports compared to conventional peg style wine racks the minimalist aesthetic is retained, while eliminating the need for unnecessary materials or clutter such as rubber gaskets, straps, etc.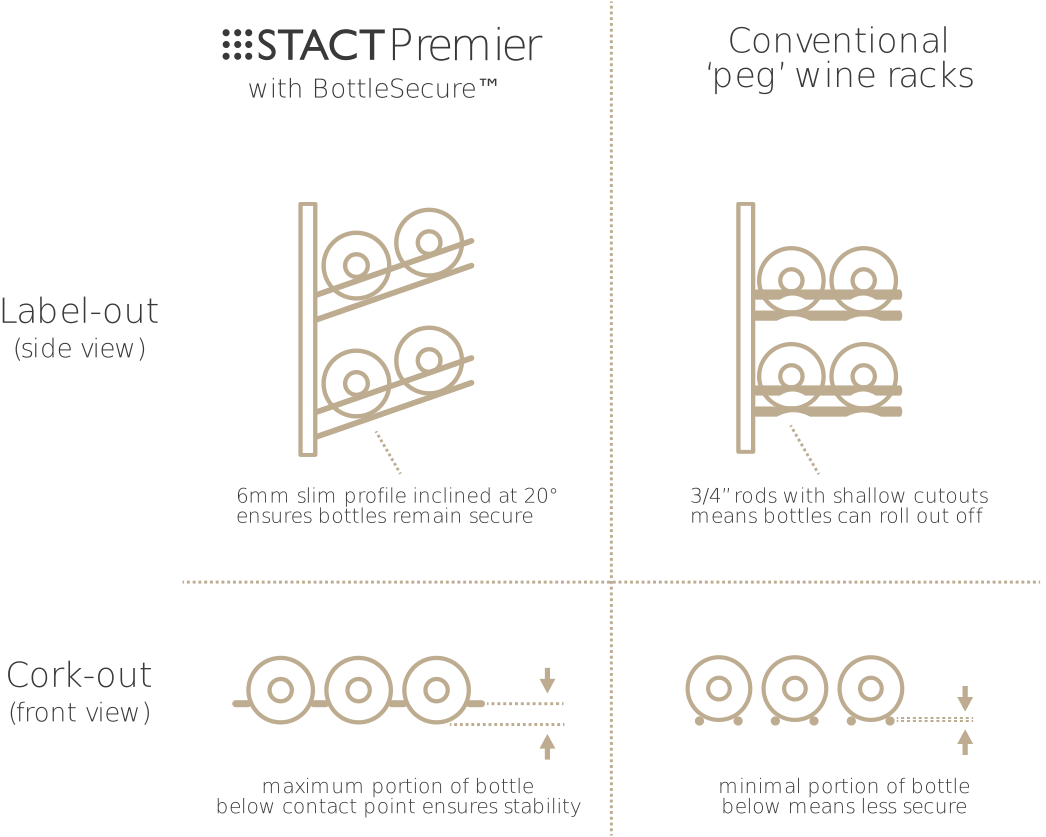 Find your wine in no time.
STACT L-type panels with patented OptiView™ technology deliver optimal label visibility, allowing all bottles to be recognized at a glance, making hidden labels a thing of the past. Conventional 'label forward' wine racks only allow the front bottle labels to be viewed.


Looks great naked.
Understanding that wine cellars are not typically stocked to full capacity, we made sure that it still attracts envious glances, especially when completely naked.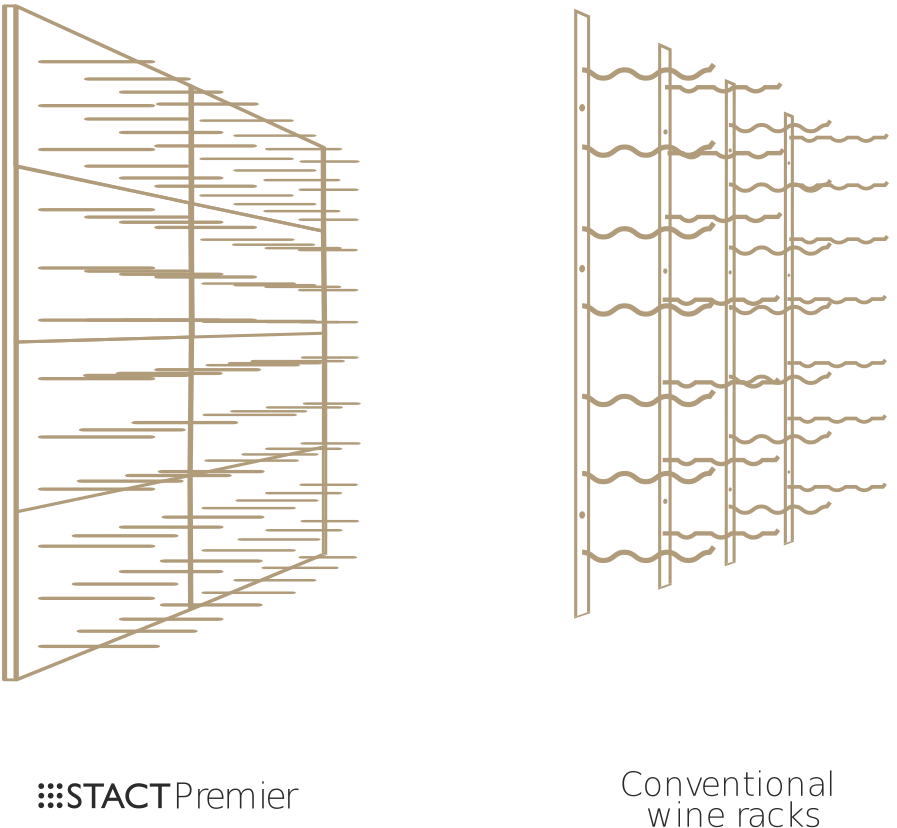 Magnum support.
Unlike conventional wine racks, STACT L-type panels support both standard and magnum bottles in one compact design.